Home | Biography | Discography | The Piano Man | Photo album | Gig guide | Links | Currently... | Guest book | Impressum
14.06.08 21.00 DO 91.2 ProJazz Radio Interview with Eric Richards:
Click here to download a podcast of the first half
Click here to download a podcast of the second half
Click here for photos of recent Hammer Big Band concert with Bobby Shew
Currently I am playing with:
Absolut Oeqvist (modern jazz)
Blechwerk (Big Band)
David DeGroat Trio (jazz)
"Easy vs. Jazz" project with Marie-Christine Schroeck
For Everyman (hits from the 60s to 90s live and unplugged)
Inez Timmer (Nichts haut mich um - Cole Porter - theater jazz)
Night and Day Stompers (dixie, mainstream)
The Swing Brothers (swing standards)
Tore Down House (blues, rock, jazz)
Wolfgang Surrey Quartett (modern jazz)
and if you should need some music for your wedding, business party, birthday or other event please send me an email with your telephone number and I will contact you to discuss your needs and then may be able to help you to find the most suitable music for the occasion (which may or may not include myself). A selection of what I have to offer is listed here:
Jazz Season (latin-swing-jazz with vocals, sax, piano, bass and drums - Germany)
We play : for your dancing and listening pleasure at receptions, birthdays, weddings, parties etc.
---
Chris & Eric (Ireland/GB)
We play : concerts, pubs, parties etc.
---
Eric Richards : The Piano Man (cocktail pianist - standards, evergreens, light classic, musical etc.)
I play : for reception, at birthdays, weddings, parties etc. etc. Click here to find out more.
---
To be read in the summer 2006 edition of CUX-MUSIK-INFO + WER SPIELT WO?: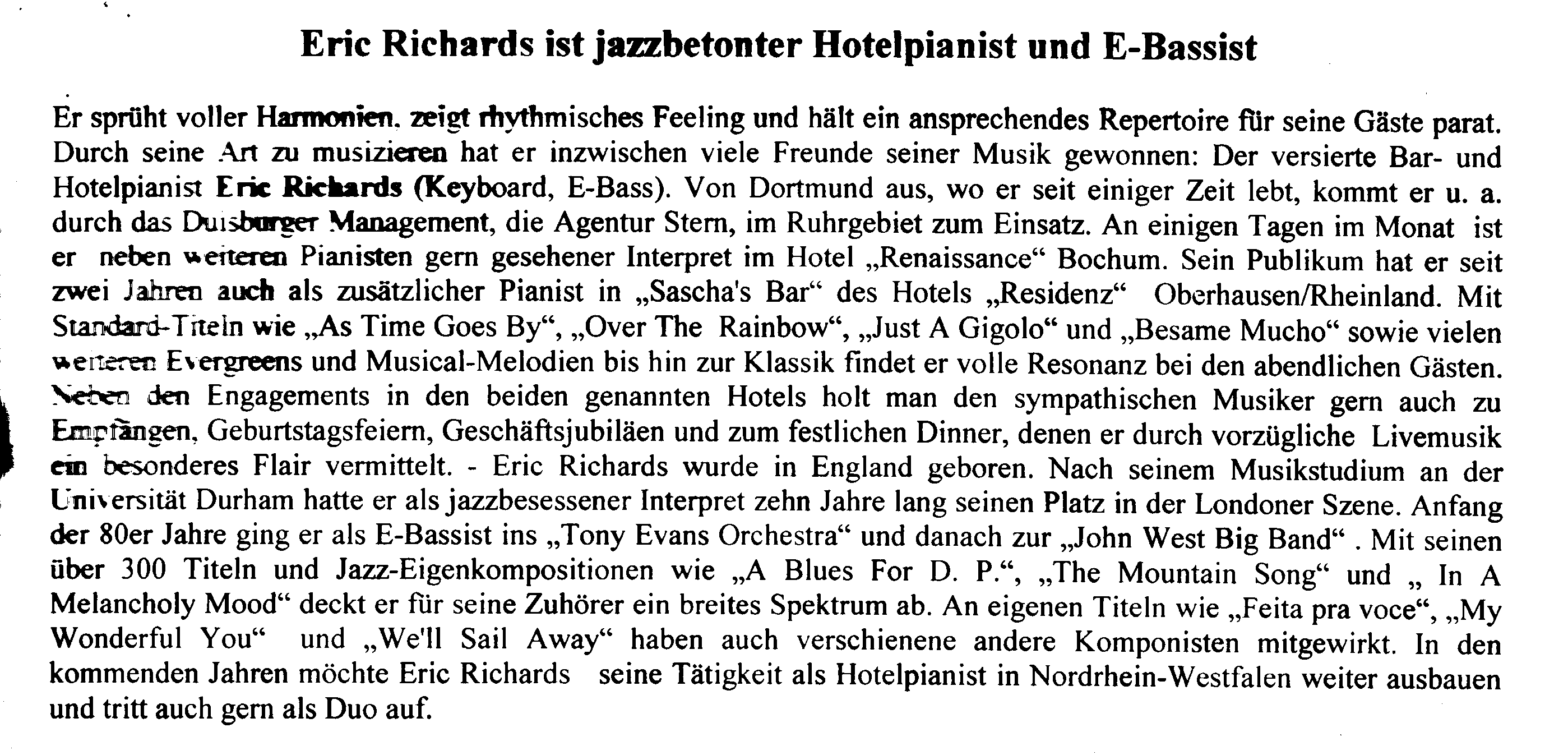 Home | Biography | Discography | The Piano Man | Photo album | Gig guide | Links | Currently... | Guest book | Impressum
© eric richards 1999